Josh Harrison just keeps hitting the baseball...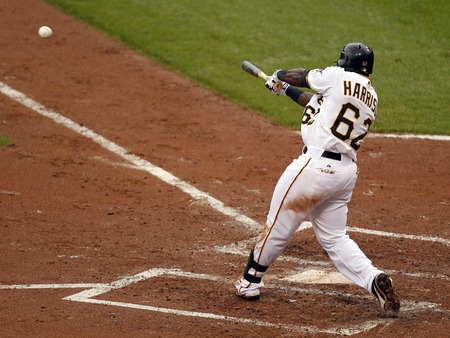 He isn't a guy that is mentioned with the Pirates core of Cutch, Walker, Tabata...etc. Harrison is just a baseball player. Simple as that. He is a gritty little guy that hits the baseball and plays decent defense.
If there was one name that wasn't being discussed before spring training, that name was Josh Harrison. It seems to me that he still isn't being discussed. He leads the team in doubles this spring, but more importantly, he really is getting great wood on the ball. He had another double today in the first inning: a rocket shot to the opposite field gap.
For a guy that I looked at as a slap hitter last year, Harrison looks like he has added a little more power to his arsenal. He won't be an every day player, so he doesn't need to hit a ton of home runs. A good gap power hitter will be invaluable coming off the bench though.
Oh...and Harrison is hitting .520 this spring. So.......yeah.
Anyway, the Pirates lost 5-4 on Saturday afternoon, which isn't really a big deal considering the two pitchers who allowed the Astros to tie and win the game in the 9th and 10th innings won't see the light of day on the MLB squad.
The Pirates have been looking at Igarashi, who gave up 3 runs in the 9th, but I don't think he's going to make it.
Walker had a clutch two out two run single in the first inning, and The Legend hit a massive moon shot home run later in the game. Cutch stole a base, and it remains very clear that the Pirates are going to be moving quite a bit on the base paths this year. That should be fun to watch.
It was also very encouraging to see James McDonald pitch 7 innings today, giving up one earned run. He only struck out three, but we have been hearing a lot about him having possible "dead arm" problems. This is a good sign, even though he was playing against the Asstros.