James McDonald did something that no other player on the Pirates major league roster did yesterday. He got a base hit. That's pretty funny right???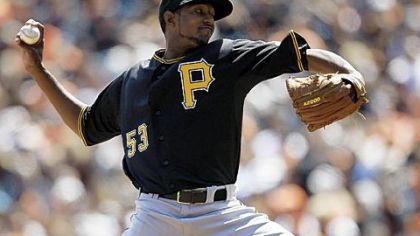 NO.
This offense is horrid. Terrifying. Egregious. Let me pull up thesaurus.com so I can continue with this...
Yes, James McDonald was the only thing that stood in between Matt Cain and a perfect game. McDonald hit a ball hard in his first at bat, but poked a single to the left side in his second at bat. Nobody else made a peep.
Now look. Barajas, Barmes and Walker have been god awful. BUT, they aren't going to finish the year batting under .100. Why? Well, if Barajas and Barmes are hitting under .100 for another month or two, they will be gone. If Walker stays at his current pace (which he won't), well...this organization is going to have some tough decisions to make.
I just picked up Walker in a fantasy league, somebody with little patience already dropped him. Calm down people. Walker has hit the ball pretty decent lately, he's just getting zero luck. He'll turn it around.
Meanwhile, I don't have the same "turn it around" song to sing for the Pirates record, at least not for the short term. We have to keep playing the Giants for a couple games, then we get to go down to Arizona (Yay!). The month of April schedule is brutal, and it's April 14th. We have a long way to go.
In other news, Matt Hague has been sent down to AAA Indianapolis in order to make room for Morton on the roster. The Pirates looked ahead at future pitching matchups and decided they wouldn't need him more than Harrison and Navarro. They believe Hague will be back at some point during this season, he may be an up and down kind of guy. Tough, Hague hit the ball pretty well despite being 1-9.
Alvarez wasn't considered for a trip to Indy. He needs to be. This guy is LOST. He has no clue what he is doing, and it's becoming more and more evident every time he steps to the plate. I have always been one of Pedro's biggest supporters, but I can't support this. There was a particular at bat last night where Pedro saw 5 pitches, all balls from Matt Cain. He struck out. He isn't recognizing pitches he needs to recognize, and he isn't pounding balls he needs to pound. He has no clue. Let him play every day at AAA and get some confidence. He must figure it out.
Morton makes his first start of the season tonight at 9 PM EST. I'll have live updates on the Twitter (@thebattlinbucco) at least for the first few innings.