And thus begins a new chapter in the book of the Pittsburgh Pirates. The book has had 19 bad chapters in a row. If it really was a book, you wouldn't be reading it anymore. You would have sold it to the corner bookstore about 16 years ago, and it would have been sitting on a shelf in their backroom collecting dust ever since.
Hurdle addressing the team before their first collective workout
The Pirates are looking to avoid two decades of losing. There are new faces in the clubhouse this year, but aren't there always? Why should we even be excited about the upcoming season? While the guys are just getting their feet wet in Bradenton, here are a few bold predictions for the upcoming Pirates season. Yeah...I put the word bold in bold.
1. Gerrit Cole makes his professional debut.
Cole has a huge, durable frame. Pitching at the college level should help him to fly through the system quicker than someone like Jameson Taillon. If the Bucs need pitching help in July/August, don't be completely shocked if Cole shows up at PNC Park. If he doesn't, no need to worry, I can't imagine him taking any longer than two years to get here.
2. AJ Burnett drops an ERA under 4
In my AJ Burnett
blog post
last Wednesday, I discussed several reasons as to why I felt Burnett would have a successful stint with the Pirates. As of today, Burnett passed his physical and the trade was passed by the league. Burnett is will be 35 years of age heading into the 2012 season and with a declining fastball, he isn't what he used to be.
That doesn't mean he can't be a great pitcher in the NL Central, especially in PNC Park. Ray Searage has already said Burnett will be the ace of the rotation if it's purely up to him, so look for the ace of the Pirates' rotation to have a solid year.
3. Starling Marte will make his case for a starting outfield job
Marte will start the season in AAA, just a phone call away from the big leagues if he lights it up or the Pirates need some outfield help. Marte might already be the second best outfielder in the organization. Marte had a career season while making the jump to AA Altoona last season, putting up a .332 batting average, .870 OPS, and blasting 12 balls out of the ballpark.
Oh what's that you say? 12 homeruns isn't very impressive? Well during his previous four years of baseball in the Pirates organization, Marte hit only 15 total homeruns. 15 homeruns in four years, then 12 homeruns in one year? It looks like Marte has developed some power, and there might even be some more waiting to be unleashed.
4. The Pirates will lose 90 games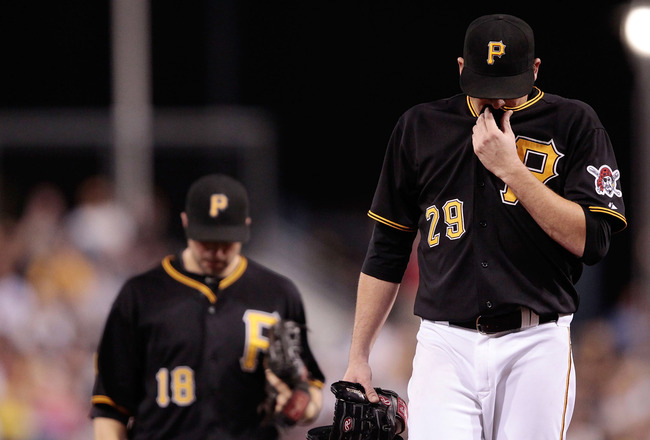 I know, you were hoping I would predict a winning season. I'm not that bold. Heh.
My fourth and final prediction is for the Bucs to drop 90 contests. All things equal in 2011, the Pirates are not nearly as good of a baseball team as they were in the first half, and they simply aren't as bad of a team as they were in the second half.
Things will average out this year and the Pirates will win roughly 72 games.
I hope I'm wrong, but the best bet to see fireworks at PNC Park this year will still be on Fridays.